I'm an Android Wear enthusiast. I had a Samsung Gear Live for a while before I fell in love with my Asus ZenWatch, but I'm always interested in seeing different approaches by different manufacturers. Verizon let me play with an LG Watch Urbane last fall, and they recently let me try the Moto 360 Sport while I was reviewing the Galaxy Note 5.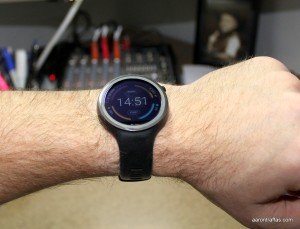 As much LG geared the Watch Urbane to be an elegant fashion statement, Motorola has taken their 360 line of smartwatches and focused the 360 Sport on fitness tracking. Its band is a silicone strap that's not replaceable. It has a GPS so you could track a run without having to take a phone along.
The display is what Motorola calls AnyLight and is readable indoors and in sunlight. It's much easier to see than other watches I've tried. While I still think Android Wear works better on square devices, I didn't feel like the round screen was as much of a problem as it was on the LG Watch Urbane. The screen of the 360 Sport isn't entirely round – there's a notch at the bottom for a light sensor.
Like most Android Wear watches, the 360 Sport has Wi-Fi so the watch can display updates when not connected to a phone by Bluetooth. Google Play Music supports syncing music to the watch, and the watch can pair with a Bluetooth headset, so leaving a phone behind for a run is actually possible without sacrificing GPS or listening to music. I never tried because Doggcatcher doesn't support syncing podcasts to Android Wear yet.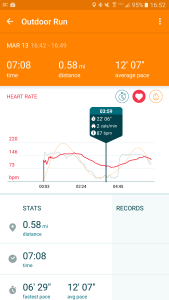 I found battery life to be good, lasting a full day and part of the next day when I would forget to put it on the charger. Unlike most smartwatches, the Moto 360 Sport has a wireless charger. It's so much more convenient to set the watch on the charger at night rather than trying to line up the pins on a clip-on cradle like the Gear Live or ZenWatch.
While Runkeeper isn't able to use the Moto 360 Sport to track heart rate, I found the Moto Body app to be a great substitute. In addition to mapping the run and tracking time and pace, it plots heart rate, pace and calorie utilization over time. If the Moto Body app would work with my ZenWatch, I'd probably start using it regularly.
The newest version of Android Wear that was released while I was reviewing this watch introduces additional gestures that allow navigating the menus and interacting with notifications with wrist movements.
The microphone on my ZenWatch has been broken for many months, so it was great to be able to talk to a watch again. Android's voice interactions continue to get better, and it's great to set timers and reminders without having to reach for the phone.
All in all, the Moto 360 looks and feels like a fitness tracker, but has all the power of Android Wear. The Moto Body app works really well and integrates nicely with the watch. The GPS and AnyLight display make this watch more functional than most watches on the market, and the wireless charging make it one of the most convenient to use. If you're looking at Android Wear because you want a great fitness tracker, it'd be tough to select anything other than the Moto 360 Sport.