"What do you want me to do?" she asked.
It was May 29 and Diane and I were debating two urgent issues. Would we let Nolan play baseball in the season that was about to start and would we attend my niece's first communion that weekend?
I've been furious at Kansas for opening up like nothing happened. I'm mad at Governor Kelly for caving to pressure from the right to take her foot off the brake and mad at Barber County for not really doing anything more than a head fake at social distancing.
Every night on my way home, beginning before they were even technically allowed to, the parking lot to the local bar was full. I've seen Snapchat messages from friends throughout the quarantine partying without blatant disregard for distancing rules. I can count the number of masks I've seen worn in Barber County in the last four months on two hands — one if I exclude my family.
The data are showing that, while the first-affected coastal areas are trending downward, the middle of the country continues to see hotspots indicating the danger is far from over.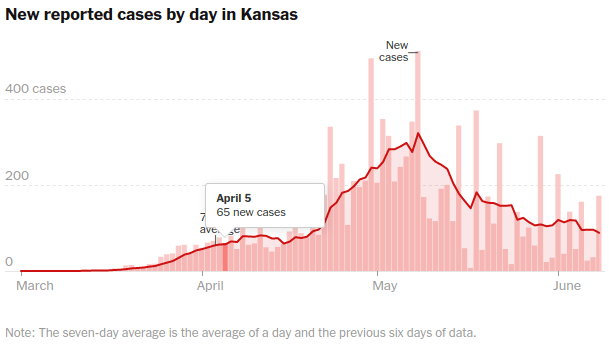 We ended up making the decision to stay home and continue restricting contact for anything non-essential. Holding Nolan back from baseball was one of the hardest decisions I've made as a parent — knowing first hand how my own baseball skills fell behind those of my peers when I as an adolescent chose to take a year or two off of summer baseball so I could spend more time farming.
I'm skipping or calling in to meetings. We're still avoiding restaurants and even take-out. The running joke on our weekly Sunday Service for Sanity streaming parties is that "I don't want a part-time poop-fingers mouth-breather to give me the 19" but it's a serious and, I believe, legitimate concern that I continue to wrestle with.
A lot of people depend on me in ways that don't have a backstop. If I were to get the '19 and have an experience as bad as my friend Rob, that downtime would be devastating to wheat harvest and fall-crop planting.
There was recent news of an announcement by the WHO that asymptomatic spread is perhaps less common than initially believed. I've also heard conflicting information, also from the WHO, but I hope that's the case so we can ease up a little bit on our practices that are becoming more and more rare in this part of the country.
Being a parent is hard. Holding the line on social distancing when everyone else is back to life like nothing happened is hard. Luckily, at the end of the day, saying I am doing everything possible to protect my family will be easy.