My friends at Verizon sent a couple devices for me to take along to the 67th International Auctioneers Conference and Show held last month in Grand Rapids. Knowing the demands a week-long convention would place on the batteries in my mobile devices, they sent the mophie powerstation plus 3x with Micro USB Connector.

I've used external battery packs before – I currently have a stack of five on my desk. However, I've never seen any that has the build quality or premium design aesthetic as the powerstation. It's completely self contained, sporting only an input cable with a USB type-A plug and an output cable with a Micro-USB plug. These two cables fold up into a slot underneath the hinged cover when not in use. Pressing the button on the end of the unit triggers the four lights to display current charge status.
Battery capacity is measured in milliampere hours, or mAh. The powerstation plus 3x has a capacity of 5000 mAh. For context, most phones have batteries in the 3000-3500 mAh range. The Zerolemon battery on my LG G3 that I'm currently using has a capacity of 9000 mAh, so while the powerstation couldn't charge it completely, it would give it a big boost. Most phones could take more than a complete charge from the powerstation.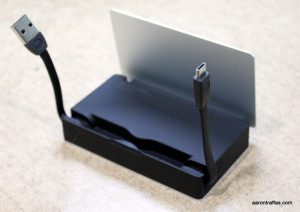 While it doesn't support Quick Charge, the powerstation advertises a 2.4 amp output, which is the most I've ever seen on a portable power pack and also more than the majority of wall and car chargers I've seen.
The mophie powerstation 3x with Micro USB Connector is elegant and convenient, though the minimalist design comes at a cost. It doesn't require additional cables in order to charge the device or charge a phone, but it unfortunately doesn't support charging anything other than a single device with a Micro-USB connector.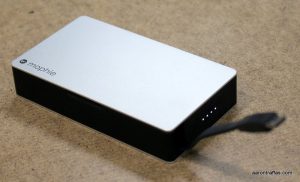 After the conference was over, our return flight to Kansas was cancelled. We ended up renting a car and driving all night back from Grand Rapids. While the powerstation worked great to charge my LG G3, I couldn't use it to charge the HTC 10, which has a USB Type-C connector, nor my friends' iPhones. I was lucky I had another battery pack that had traditional USB ports with me that I could toss in the back seat for them. mophie does make a version of the powerstation that has a Lightning connector instead of the Micro USB cable, but I would prefer if they'd simply add an additional port on the unit that could be used to power a second device using any cable.
If you only have devices that use Micro USB, it's going to be tough to find a portable battery pack that's as well built or simpler to use than the mophie powerstation plus 3x.