Verizon recently let me spend a couple weeks with the Kyocera Brigadier. A Verizon exclusive, the Brigadier has been available for a little over a month now for $399 or $99 after rebate with a two-year commitment. It's a very different phone from what I'm used to, so it was fun to put it through the paces on the farm.
The Brigadier is a rugged phone targeted at industry and outdoor enthusiasts. It has some great strengths on the external hardware side, while maintaining on-par performance internally. Let's first look at the hardware, which is where most of the differences are. Others have listed detailed specs, so I'm going to focus on what makes this a great phone for the farm and what makes it challenging to be excited about as an Android software enthusiast.
This phone feels great in the hand. I haven't held a phone that felt this good since the original Motorola Droid. It's heavier and thicker than most phones I've seen in years, which, in an age of phones that are consistently too thin and light to feel good, is a big bonus. The only challenge I found with the size is the actual size of the screen, which I felt to be a little cramped at only 4.5 inches. The bezel also seemed a little larger than necessary, adding to the cramped feeling. However, if you're coming from an iPhone or you haven't been using a phablet for the last year, I'm guessing you'll feel right at home with the screen size.
The display is sapphire, marketed as Sapphire Shield. It's clear and bright, though it doesn't seem different from other displays until you accidentally drop it. While the phone is descending, the display suddenly feels safe in that it's highly unlikely that it will break like other displays. Apple is experimenting with sapphire, having added it to the recently released Apple Watch, but Kyocera sure beat them to market with sapphire the size of a phone screen.
Along with the phone, Verizon sent along a "destructo kit" for the phone, comprising a new Bear Grylls Gerber knife, steel wool, a bag of rocks, coins and basically dared me to try to scratch the screen. As you can see in the video, I wasn't able to do it. Also included in the kit were gloves and a dunk tank to demonstrate the glove and wet touch operation as well as prove that the device is waterproof.
This phone has buttons. It's a big departure from the current design trend of reducing buttons to a bare minimum. In addition to buttons for power and volume, which is all most modern phones need, the Brigadier has dedicated buttons for the camera, speakers, home, back and the application switcher. It even has an extra button that's not dedicated, allowing the user to specify the function for that button.
This phone is loud. Years ago, when I wrote up my review of the original Droid, I marveled at how loud the phone was. It was a breath of fresh air compared to the Sprint phone I'd been using. The normal phone speaker on the Brigadier doesn't seem much different from other phones, but the speakerphone is ridiculous. It's the first phone I've had to turn down when playing podcasts or music because it's simply uncomfortable listening at full volume. This, of course, is a great problem to have when most phones won't make enough noise. It's definitely a phone with a ring that you could hear over the roar of an engine or power tool.
I submerged the phone in water, as shown in the video above, and found it to work fine immediately upon removal. A phone that's rugged enough to be waterproof out of the gate isn't a phone that's going to easily be put in a case. A waterproof phone requires flaps over the ports, which is an inconvenience, but no less so than the flaps found on many of the rugged cases.
It seems that Kyocera focused so much on the exterior – and they did an amazing job – that they neglected the same polish on the inside. They claim their software customizations were intended to make it easier to use with gloves, but, as with all manufacturer changes to Android, I found their enhancements clunky and frustrating compared to what a pure Android experience could be. The first order of business for setting up a new Brigadier, like all non-Nexus devices, is definitely to replace the stock launcher with the Google Now Launcher. I will note that, unlike Samsung and LG, Kyocera thankfully left the notification shade clean, which means that after swapping launchers the experience is quite close to stock Android.
While I'm farming, my phone is playing podcasts through Bluetooth all day, every day. My headsets, primarily the LG Tone, didn't seem to work as seamlessly with the Brigadier as they do with other devices. I frequently had to go to the phone's Bluetooth control panel and manually connect when I was moving from one device to another, where other phones usually connect automatically. I noticed about five spontaneous reboots of the Brigadier, though I don't know if that's a bug in the phone or the particular review unit I was using. Unfortunately, because the Brigadier isn't as fast as the other phones I'm used to, the reboot time felt noticeably long while I was waiting to turn my podcasts back on.
The battery was okay, and certainly on par with other phones with stock batteries, but certainly not strong enough to last through moderate use for an entire day. I'm used to a phone that can handle moderate usage from 6 a.m. until after 10 p.m. In order to last so long, a phone needs a very large extended battery. Since the battery on the Brigadier isn't removable, I'd have to carry a battery pack or keep it near a mobile charger at points throughout the day.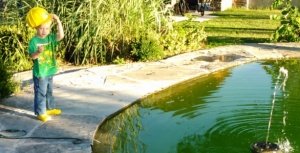 I found the camera to be sufficient for farm use, but low light performance certainly falls short of the cameras on other phones I've used recently. I will admit that the dedicated camera button, which doubles as a camera app launcher button as well as a shutter trigger, makes taking pictures more simple than phones which lack such a button.
The most important feature of any phone is the antenna. I've learned in the last few months that different phones perform very differently when it comes to signal strength and service level. When I'm at home, I've found Verizon's coverage to be fantastic. However, my farm is on the fringe of coverage, and the differences among devices' antennas is quite noticeable. Spending many hours in the same fields going back and forth, I have plenty of time to measure and compare phone signal. I found the Brigadier to be on par with the HTC One M8. The reception is not quite as good as the Moto X or even the LG G3, but it's far superior to the Samsung Note 3, S3 and S4.
All in all, this phone features cutting-edge ruggedization and decent performance. It's not the fastest phone nor does it have the biggest screen or battery, but its unique, rugged hardware makes it a great fit for anyone in a harsh environment like a farm or construction site who wants a simple, durable and loud phone.
Additional, unedited camera examples from the Kyocera Brigadier