In spring 2016, LG announced the G5, which was the first consumer phone that featured a modular design. You could remove the battery and plug in a camera enhancement or an audio system upgrade. The G5 was a great phone, but the add-on ecosystem never really took off. Last summer, Lenovo announced its take on the modular smartphone with the Moto Z. My friends at Verizon recently let me spend a couple weeks with a Moto Z Force Droid — and a few Mods — and I'm convinced that Lenovo's approach to add-ons is the right one.
The Moto Z Force Droid Edition isn't the fastest or biggest phone on the market, but it's not far from the top. It has a relatively large 3500 mAh battery supporting the sizable 5.5″ ShatterShield screen that's guaranteed not to crack. The phone only comes in a 32 GB version, which isn't enough for podcast addicts like me, but it does have a micro SD card slot so that storage isn't a concern. The camera is nice, too, at 21 MP with optical image stabilization and laser autofocus. I especially like the low light performance.
The power and volume buttons are on the right side of the phone. There's a fingerprint reader below the screen on what seems to be a needlessly large lower bezel. I'd prefer a fingerprint reader on the back, but considering the interchangeable backs of the Moto Z, it's understandable that they had to put it below the screen.
The biggest problem I had with the hardware is the lack of a headphone jack. When I heard the Moto Z was the first phone to ditch the traditional 3.5 mm audio plug, I didn't think it'd be a problem since I nearly always wear a Bluetooth headset. However, I needed the headphone jack three times in the two weeks I carried the Moto Z Force — once when my headset battery ran out and I didn't have a spare, once when I was wanting to play music through the PA system before an auction and once when I was using the projector to display a basketball game and I wanted to play the audio through my sound system. While there's a USB Type-C headphone jack adapter in the box, I'm not going to carry it around in my pocket when I may only need it once or twice a week.
The software on the Moto Z is very similar to the Moto X and Droid Turbo. There are a lot of Verizon apps preinstalled, but the actual Android experience is about as close to stock as you can find without buying a Nexus or Pixel phone. Motorola is really good about only adding beneficial enhancements and otherwise leaving Android alone.
All these things considered, the Moto Z Force Droid is a solid flagship release. What makes it shine, though, is the implementation of Moto Mods. These attachments have strong magnets that snap to the back and connect through a number of pins. There are several currently available, and Verizon sent me a battery, camera and projector to try.
TUMI Wireless Charging Power Pack Moto Mod
While the 3500 mAh battery might get an average user through a day, on my farm my experience has shown me that it'll last me until about 3 p.m. I hate trying to find a charger in the middle of the day, so I won't carry a phone without the ability to add additional battery capacity. Most phones have done away with upgradable batteries, so the only option for most phones is a clunky battery case. The TUMI Wireless Charging Power Pack Moto Mod provides an additional 2200 mAh and also supports wireless charging. It can be used to keep the phone battery at 100% as long as possible, or used in Efficiency Mode which keeps the phone battery at 80% for as long as it can. Unlike battery cases, it looks like part of the phone. Worrying about the level of charge for two separate batteries isn't quite as convenient as a single battery upgrade on a phone with a replaceable battery, but if I was going to own a Moto Z Force, I'd definitely get one or two of these Mods to get myself through the day.
Hasselblad True Zoom Camera Mod
The 21 MP shooter on the Moto Z Force itself is pretty good. However, like cameras on most smartphones, it lacks optical zoom and even basic hardware camera controls. The Hasselblad True Zoom Camera Mod features a real 10x optical zoom, bright xenon flash and physical buttons for the power, shutter and zoom. The sensor is only 12 MP, though, and while it works great in sunlight I found it tough to keep in focus at 10x zoom on an overcast day. For shots that don't need zoom, I got much better pictures by pulling the Mod off and using the camera on the phone.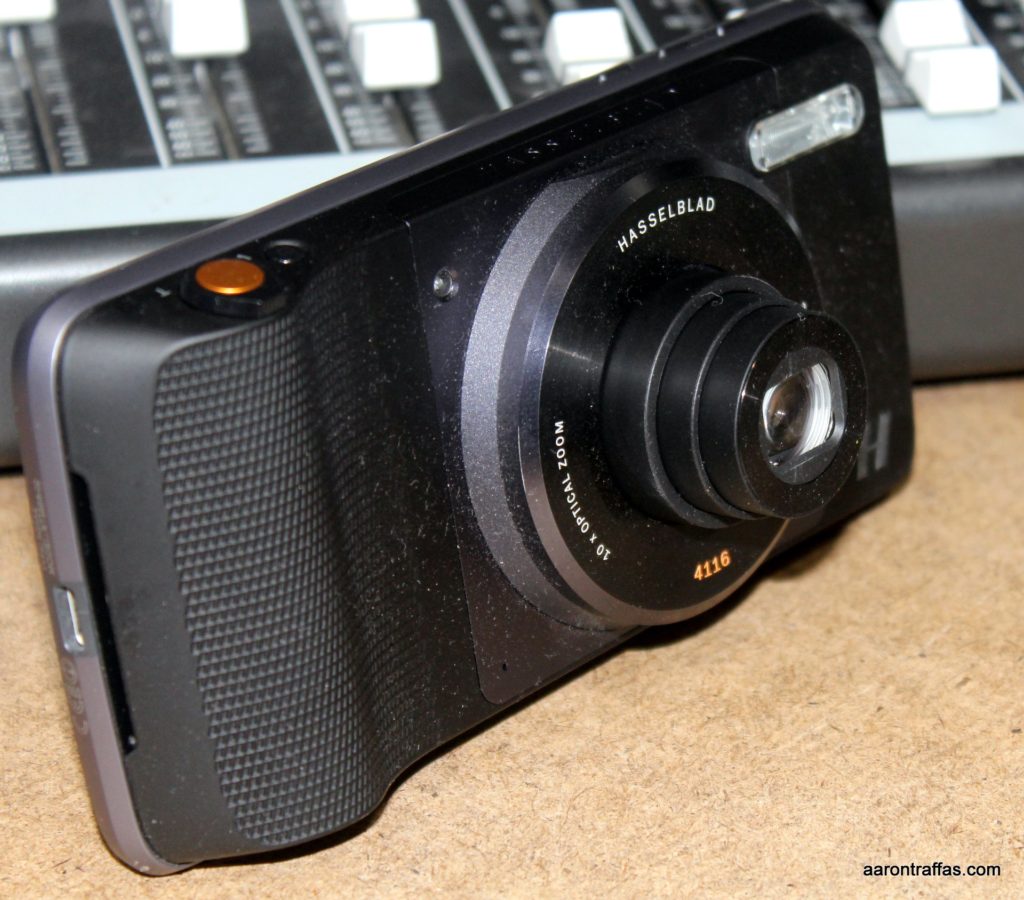 Motorola Insta-Share Projector Moto Mod
While the battery Mod is essentially crucial for day-to-day use and the camera Mod has a very specific utility that could be extremely valuable for certain use cases, the Motorola Insta-Share Projector Moto Mod is either really fun or really important for business. I thought it was a gimmick, but the first night I had it I found myself using it at a meeting after someone literally said "…if we only had a projector." It's extremely easy to use, with just a power button and a focus wheel. I really wish it had a headphone jack so I could have played the audio over my PA at the bar while I was watching the KU basketball game before my show. The battery lasted only through about the first half of the game, even though I had the phone plugged in to a fast charger. Even so, I can see how great this projector would be to show video clips to a group of friends or pitch a presentation at a board meeting.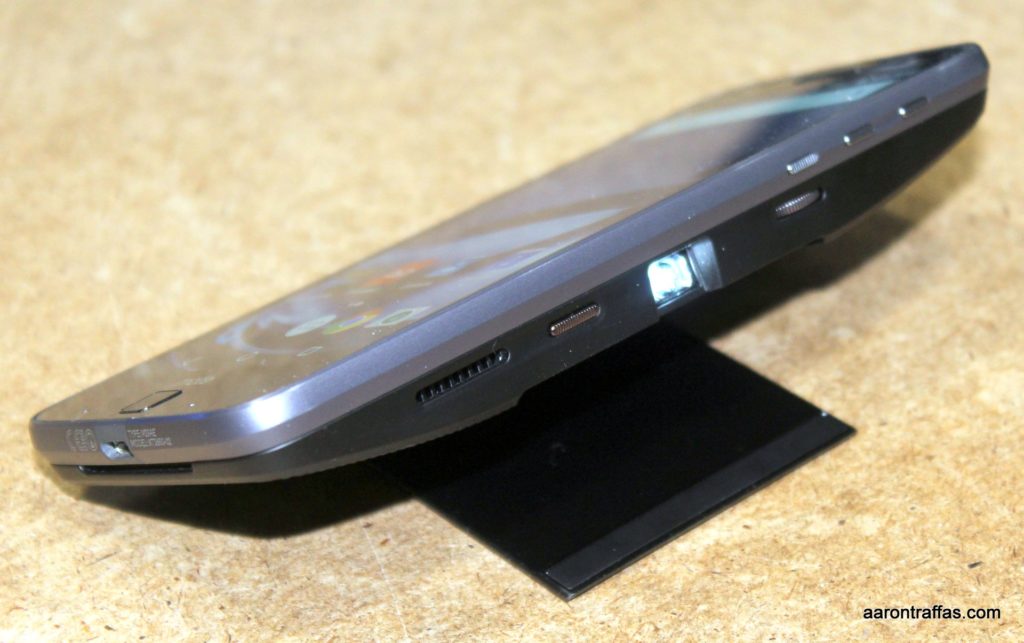 In summary, the Moto Z Force Droid Edition is a very solid flagship phone that has a killer feature — an open ecosystem of modular add-ons that adds real functionality to an already premium smartphone.
Here's a picture comparison taken of some canola with various cameras.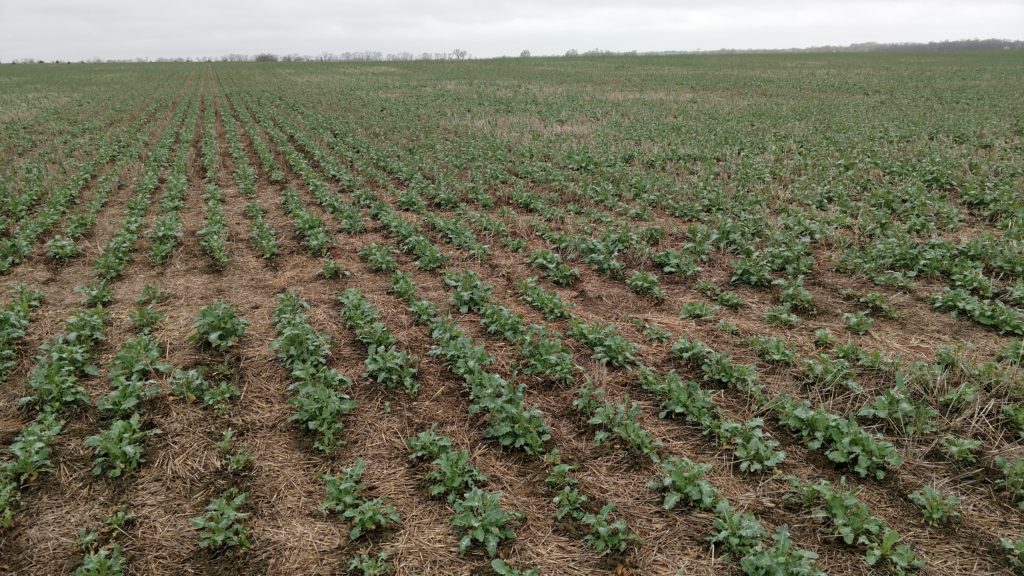 Here are a few pictures taken with the Moto Z Force Droid and some with the Hasselblad Mod.